August 22 2022
What is a smart home? How much does it cost and is it worth it?
Along with the accelerating technological development, "thinking" devices have become more and more popular in our homes, contributing to the establishment of smart home systems. Find out what exactly this term means.
What is a smart home?
A "smart home" is a general term referring to automated household devices that can be controlled remotely. They can form both, simple (encompassing only selected functionalities, e.g. lighting) and complex systems that enable the management of devices in the whole house and garden.
What can a smart home do? Find out more about its functionalities
Communication between different elements of the system can be wired or wireless. Smart home systems can be divided into open (in which various, additional devices can be integrated after the system has been designed and installed) and closed (with which only a specific group of devices can be integrated – normally products of one manufacturer) systems, architecture-wise. Different types of systems are described in more detail in the next section.
Types of smart home systems
Smart home systems can comprise of more or less complex structures. An absolute minimum would be one device with a driver and a remote control, or an application that facilitates management. Depending on the client's needs, such systems can be expanded on almost indefinitely (for example, smart home systems in offices, or hotels).
More complex smart home systems consist of elements such as:
sensors (for example motion, or gas leak sensors)
end devices (lights, blinds, etc.)
wireless modules and wired modules, including drivers (or so-called "nodes" that control a couple of end devices)
devices providing remote control (a remote control or application)
touch panels, which enable direct control

Closed and open systems
Let's consider a situation in which you would like to expand the reach of an existing system and include a garden and a renovated attic in the system as well. If the initial assumption was to implement a closed system, you will have to use one manufacturer's products. An open system would give you more freedom in adding extra elements to the puzzles. It does not mean that closed systems do not have advantages. First of all, the integration of particular elements is easier in closed systems. Therefore, in case of system's malfunctioning, only one company, the manufacturer of all components, is responsible for repairs.
On the other hand, it is the open system that allows greater freedom at the design stage and with any potential future expansions. Moreover, not being dependent on only one manufacturer can also be considered an advantage. There might come a time when a given company will cease to provide technical support, or will withdraw from the market – then a closed system will prove to be quite a difficulty. Also, every year more and more advanced devices are released and using them in a closed system may prove impossible.
Wireless and wired systems
Smart home systems can also be classified according to their communication method. Each of the system's elements may use wireless transmission protocols to communicate (it sounds complicated, but the term means simply different kinds of networks such as the popular Wi-Fi). In wireless smart home systems, Wi-Fi is the most commonly used, ZigBee or Z-Wave standards. The primary advantage of wireless systems is that you do not have to drill in the walls (no cables). The most important disadvantage, on the other hand, is that in large buildings, the network might not handle the range and the load put on it (with devices using Wi-Fi). Even if, theoretically speaking, ZigBee supports communication within the range of up to 100 m, in practice it might be hindered by walls, materials used in interior design (stone, marble, mirrors) and even specific positioning of rooms in a building.
In case of wired systems, you can count on stable and unobstructed communication between different devices. An apparent disadvantage is the need to lay cables in the walls, but if you make a decision about installing a smart home system before carrying out renovations or building a house, the disadvantage disappears.
Smart home: what system is the best?
Which system type will be the best then? It depends entirely on your plans. If you plan to establish a smart home system in a smaller, already inhabited apartment, the wireless and closed system will be more suited. If, however, you are planning renovations, or you are building a house from scratch, you can consider a wired system. A wired system with an open architecture is definitely the best solution for big buildings, when using smart solutions is already envisaged at the planning stage of construction or renovation.
Is it worth investing in a smart home?
Putting money into smart home can benefit you plenty. Some of the benefits are immediately perceptible, while other take some time to manifest themselves. The three most important assets of a smart home are: safety, comfort and savings that come from a more optimised usage of air-conditioning, lighting and water.
Savings
Let's start with savings. It's a very hot topic, considering the rising petrol and energy prices. According to the Nest Labs' (now Google Nest) report, using smart thermostats at home can reduce the heating costs by 10-12% and cooling costs by 15%. All that thanks to the functionalities that do not come with a "regular" installation – temperature programming, or controlling it remotely during your absence. A smart home system can also generate savings in water bills when used for remotely controlled garden irrigation or for preventing loss of water with flooding sensors. People who love statistics will be delighted to learn that some systems also collect usage data for utilities.
Safety
Thanks to a smart home system you can also sleep soundly in your house, and everywhere else. If there is a water, or gas leak, the system will detect it. It is also capable of scaring potential burglars off by imitating the presence of someone being at home with lights. Remote control of gates and blinds is also a great solution for those who happen to forget securing their homes before leaving them. Not to mention motion sensors that not only automatically switch the lights on and off, but can also inform you about a visit from an intruder.
Comfort
The bigger the apartment or house, the more relevant this argument gets. A smart home can be managed from any place, which means that you can close the window in the attic, switch off the lights in the basement and turn off illuminations in the garden all while sitting comfortably on your couch. You could also prepare the house for your return from a vacation by switching the air-conditioning on in advance.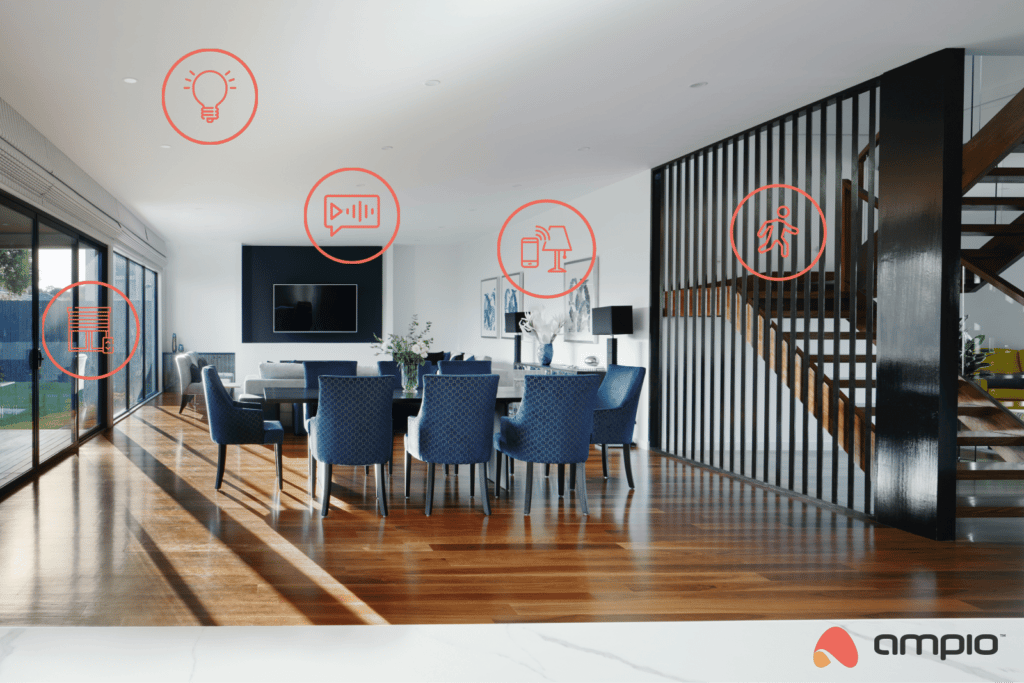 How much does a smart home cost?
The main factor that determines the price of a smart home system is its complexity (stemming from the building's capacity and layout), functionalities package and type.
The simplest systems with a closed, limited architecture and only one functionality (for instance, lighting control) can be obtained for a couple thousands PLN.
In case of open architecture systems designed for a specific building, the average price comes to 200 PLN/m2, excluding installation. This amount will allow you to create a system with basic functionalities.
The cost of installing a smart home system can be substantial, but it is an investment for many years to come. An investment that delivers returns in better safety, greater savings and increased comfort in your everyday life.
By continuing to use the site, you agree to the use of cookies. more information
The cookie settings on this website are set to "allow cookies" to give you the best browsing experience possible. If you continue to use this website without changing your cookie settings or you click "Accept" below then you are consenting to this.