September 8 2022
7 reasons why it is worth choosing Ampio
7 reasons why it is worth choosing Ampio
The smart home market is dynamically developing, with new solutions popping up all the time. They enable automating many household-related tasks and managing various devices without lifting a finger. What to pay attention to when picking a provider? There are a few criteria worth paying attention to. In Ampio, we fulfill them while responding to changing customer needs and continuously improving our services. What makes us stand out? We have gathered seven features that can be essential to you, regardless of whether you need solutions for your own home or a partnering provider for your business.
#1 Functional app
You can control our smart home system with an intuitive app available for different devices (smartphone, tablet). It works both on Android and iOS. The app allows you to monitor the house, including its interior and exterior conditions. You can also use it to regulate different parameters – from lighting to the intensity of heating and ventilation.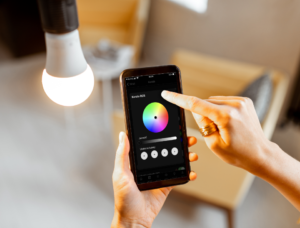 #2 Presence simulation
Among all the features, this is one of those which  our customers appreciate the most. It allows you to provide your house and the surroundings with additional protection when everyone is out of the home. You can program the lighting to simulate your presence in the house while minimizing energy consumption. You don't have to manage the parameters manually – the system, which registers patterns in your-lighting activity, will do it for you, scaring off the potential intruders.  
#3 Presence detection
Since we touched on that topic, let's move to another feature that only some smart home systems provide. It's a blessing for the parents who can use it to make sure that their children came back from school safely. It allows our customers to control whether their pets are safe and sound.
#4 Touchpads
You can manage our smart home system both via an application and an aesthetical touchpad. It replaces the classic switches, gathering different functions in a compact interface. What's important, you can fully personalize the touchpad. We can design your icons on demand and even engrave them. Our customers can create the project of the touchpad on their own using our creator. Remember that it is an optional element of the Ampio system – you can also pick the traditional switches if preferred.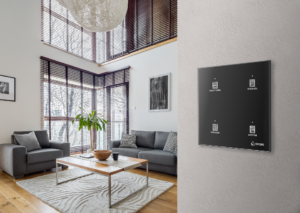 #5 Complex smart home service
There are quite some systems on the market that focus on a particular aspect of a smart home. We combine them into a coherent whole so that customers can automatize a wide range of tasks (in the field of heating and ventilation, lighting, gates and blinds, and safety) from the level of one system.
In practice, it means you can use our system to prepare a coffee without moving from a couch, check whether the oven is off after leaving the house or verify the energy consumption in particular months. At the same time, the system allows you to secure your empty house with monitoring and the features listed above.
#6 Not only smart home but also smart garden
Our solution includes the garden module. You can use it to control the external lighting, but also the water system. Instead of predefining a watering schedule, you can adjust it to external factors. This way, you will manage water in a more sustainable way, and keep the plants in the best condition. For example, if it rains, the system reschedules the watering or reduces its volume. If, on the other hand, the sensors register high temperatures, it will increase the intensity of watering.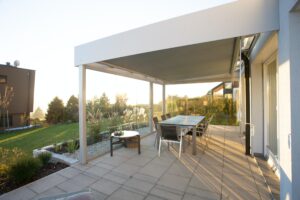 #7 Multilevel support
We never leave our customers on their own, which is not that obvious in our niche. They can find answers to their questions in our knowledge base that contains guides on various app features, among others. We are also available online in case they need us. We also created a forum where the installers can exchange their knowledge and dispel their doubts regarding the systems.
If you have any questions, write to us!
By continuing to use the site, you agree to the use of cookies. more information
The cookie settings on this website are set to "allow cookies" to give you the best browsing experience possible. If you continue to use this website without changing your cookie settings or you click "Accept" below then you are consenting to this.