January 30 2023
New in ? Ampio LED strips
What do you need?
?I want LED strips that will shine a warm light on my evenings, and which will instantly, with one click of  a button on a smartphone, create a party vibe in blue and pink colours. Additionally, of course, I want the lights to be durable, environmentally safe and open to future modifications – if I want to buy extra strips at some point, they must emit the same glow as the ones already installed in my house?.
We've got it! Let us introduce you to the Ampio LED strips. Perfect for any smart building.
Using the LED strips
The LED strips can be used in various ways. They have proven valuable both in commercial and non-commercial solutions. We are presenting some of the applications of the LED strips below. 
The lights work great both in private residences, as well as in public spaces. Thanks to the possibility of changing the lights' colours and brightness, you can easily create a mood that fits any occasion.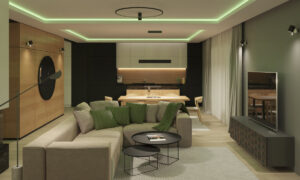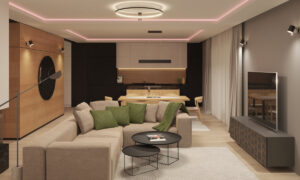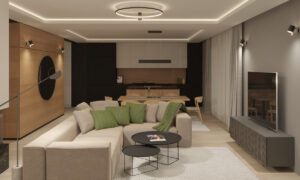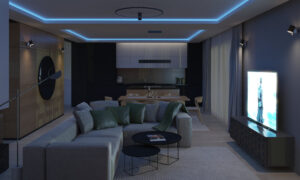 The LED strips can fulfil various roles. For example, they can illuminate cupboards, shelves or other architectural features. They are also often used on stairwells and handrails for safety reasons.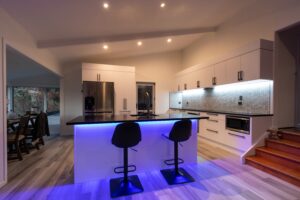 Decor and marketing purposes
The range of colour hues, the light brightness and overall flexibility offered by the LED strips make them perfect for the task. The strips can be used on any shape and in any kind of interior design.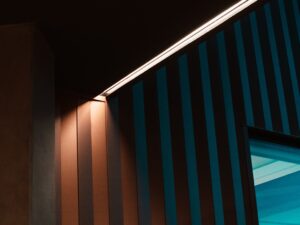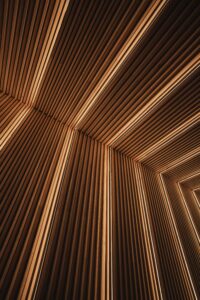 If you need a functional lighting solution, LED strips are a perfect candidate. They are available in multiple colours, can be installed virtually anywhere and they require minimal upkeep. It would be very difficult to find any other lighting solution that promises the same quality and style. 
LED strips – SMART edition
More and more often LED strips are used in connection with other smart functionalities of a building. This makes them an integral part of a SMART system. With the right configuration and automation of functionalities, the system broadens its scope further:
it will be initiated at a certain hour 

it can chase away unwelcome guests 

it can launch a specific scene with your favourite music  

it will let you change the lighting from the comfort of your bed 
You can find more information about smart lighting here.
In sum, the advantages of LED strips are as follows:
 they are energy-efficient

 they ensure unmatched visual experience  

 they are environmentally friendly – they do not emit harmful radiation, nor do they contain any dangerous substances  

there are unlimited ways of using them – both for practical and decorative purposes.
Why choose Ampio LED lights?
Our LED lights are extra durable. We guarantee a long lifetime of the strips. 
As a manufacturer, we guarantee consistency in the use of diodes in all of our LED strips. What exactly does that mean? If, at some point, you decide to add more strips to your installation, you can rest assured that they will have exactly the same warmth and illuminance as the ones installed previously. Therefore, you can start with lighting in only one space and continue in other spaces at a later time.  
It has never been easier to commence with small projects and continue onto bigger ones later. Thanks to the guaranteed consistency, you can increase the number of LED strips in a given space, apartment, or building, with the certainty that they will all look exactly the same. 
When making the decision to manufacture LED strips, we conducted a thorough demand analysis among our clients and partners. It led us to the conclusion that there are 4 most commonly required types of LED strips. Each of those types can be provided in a variety of colours, which resulted in a total of 13 new LED lighting models, namely:
60LED 24V/2700K strip
60LED 24V/3000K strip
60LED 24V/4000K strip
60LED 24V/5000K strip
120LED 24V/2700K strip
120LED 24V/3000K strip
120LED 24V/4000K strip
120LED 24V/5000K strip
2x60LED 24V/RGB+2700K strip
2x60LED 24V/RGB+3000K strip
2x60LED 24V/RGB+4000K strip
2x60LED 24V/RGB+5000K strip
200LED CCT 24V/2700K-6500K strip
The Ampio LED strips are available for sale. If you are interested in purchasing them, please contact your distributor – the list of distributors is available here. Would you like to start working with us as one of our installers? Get in touch.
Visit our YouTube channel to see the Ampio system in action!
By continuing to use the site, you agree to the use of cookies. more information
The cookie settings on this website are set to "allow cookies" to give you the best browsing experience possible. If you continue to use this website without changing your cookie settings or you click "Accept" below then you are consenting to this.