July 9 2021
New Ampio integration – smart lock tedee powered by Gerda
Smart locks are no longer only a solution seen in fancy offices. More and more people install them in their houses and apartments. They do so in order to ensure the safety of their loved ones and to protect what they hold dear the most. Price does not play as big of a role here as reliability and security of the device. 
Our days have become more and more busy. There are so many things to remember before leaving the house in the morning: cell phone, house keys, wallet, handbag/suitcase, car keys, etc. That alone can already cause a lot of stress. Looking for house keys in the morning rush, or turning around to check if you locked the door probably sounds familiar, doesn't it? A smart lock tedee powered by Gerda could be the answer to all your questions. 
Thanks to the new Ampio integration with the smart lock tedee powered by Gerda, you can open and close your house doors directly from a mobile app.  All it takes is one click of a button to lock/unlock the door. Then you can check the status of the lock in your app from wherever you are in the world. Explore the new Ampio possibilities granted by the integration with the tedee smart lock. Below, we present the most important information about this new development.  
What is a tedee smart lock?
A tedee powered by Gerda set includes a lock and a safety cylinder that is installed on the inside of the door. Therefore, when deciding on this solution, you do not interfere with the lock mechanism, but only replace its insert. When using tedee powered by Gerda, you can open and close the doors remotely via a dedicated app, or, thanks to this new integration, via the Ampio mobile app.  You can also programme your Ampio touch panels to allow you control of the lock. Another interesting possibility is to set a condition that, e.g. the lights in the hallway will switch on when you unlock the door. This could prove especially helpful when you get back home with hands full of shopping bags. It could also serve as an notification that someone has entered the house.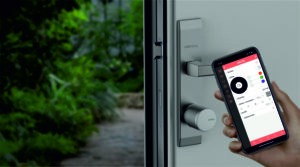 What do you need to integrate tedee smart lock with the Ampio system?
? tedee smart lock
? Bridge
? MSERV-3s/4s with Node-RED (+the latest configurator software and mobile app)
? New CAN configurator ? version 5
More information on the technical side of the integration can be found in our installers' guide: Integration with tedee lock.
How does tedee powered by Gerda lock work?
The tedee powered by Gerda lock uses Wi-Fi and Bluetooth wireless connectivity. This is a warranty that if your network connection disappears, you will still be able to use the lock via Bluetooth, or open it with a traditional key that is also a part of the set. The lock's battery is also very efficient and lasts half a year. If the lock needs charging, you will get a notification in the app. The battery charges overnight and the charger unplugs itself, when it is done charging.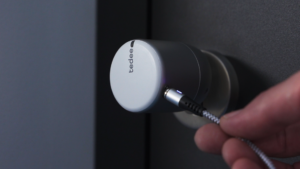 What does the tedee powered by Gerda set include? 
? Smart lock tedee powered by Gerda, which allows you to open your house doors remotely
? Bridge ?  a router that connects a tedee lock with a smartphone via Bluetooth and Wi Fi
? A cylinder fit for all door sizes
? USB charger
? Micro USB cable with a magnetic mount
? Keys to the cylinder and installation keys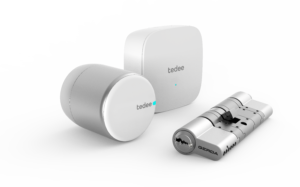 More information about tedee can be found on Gerda and Gerdalock websites, as well as on Gerda Smartlocks Facebook page.
If you are Ampio Smart Home user and you would like to find out more about integration possibilities with tedee, contact your local distributor.
By continuing to use the site, you agree to the use of cookies. more information
The cookie settings on this website are set to "allow cookies" to give you the best browsing experience possible. If you continue to use this website without changing your cookie settings or you click "Accept" below then you are consenting to this.