April 5 2023
How to choose the best smart home system?
How to choose the best smart home system?
If you want to live in a more convenient and safe environment, a smart home system is the perfect solution. How to pick the suitable option for you in all the variety of available systems? We have prepared some tips that will help you with that.
Most of us associate smart home systems with automation of lighting and blinds. Its applications are much broader, though. Due to the integrations with household items, such systems can take over many of your everyday tasks, from making your morning coffee to cleaning. At the same time, they can also protect your property against break-ins and fires.
However, the systems available on the market have a different spectrum of functions. Not every solution will provide you with complete control over what is going on in the house. The integration and management options are other aspects in which these systems also differ. Any person who has not had any touch with smart home technology may not be aware of all these intricacies. That's why we're coming to the rescue! Check how to choose a smart home system for you. 
#1 Check the areas covered by a particular system
Many systems focus on managing household items and equipment with IoT. However, that's just the tip of the iceberg in terms of possibilities. Your smart home can manage itself but also protect itself. If you want your system to be versatile, check what areas your provider covers.
In our system?s case, you can control such aspects as:
lighting

heating and ventilation

gates and blinds 

security

multimedia

garden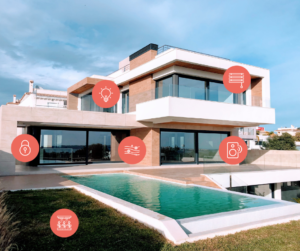 #2 Choose the most convenient management methods for you
The majority of the modern systems connect with an app through which you can control different aspects of your home, send commands to your household equipment, and create scenarios for the period of your absence. The application is likely essential for you, particularly if you put emphasis on security. It will allow you to keep an eye on your house even if you are thousands of kilometers away. 
However, it is worth thinking about complementary management methods. A smartphone can always fail or get discharged, and you don't always have it in hand. Some smart home system providers use applications only, but others offer manual smart home management devices. The customers of Ampio can manipulate the system manually with classic switches, but it is not the only option. We also produce our own touch panels that allow you to control and handle all the functionalities. 
The panels are fully customizable. Aside from picking the preferred model, you can also choose the color of the glass and even create your own project, which we will engrave on demand. This way, you can adjust the panels' style to your interiors 100%.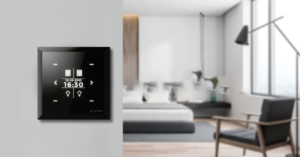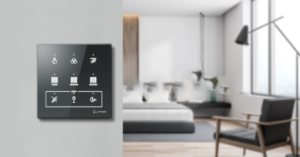 When choosing between smart home systems, it is also worth checking the application itself. Some providers release products for only one operating system due to the specifics of the market they are present on. Our application is available both for Android and iOS and works seamlessly on smartphones and tablets.
#3 Check the integration options
In order to manage the smart home and fully enjoy its potential, you usually have to introduce sensors and modules integrated with the system. We recommend choosing a provider which enables integrations with the devices and items you already have. We call such a variant an open smart home system. You can design it exactly the way you want and then scale it, adding more elements to the network.  
Ampio is an open smart home system. Our customers have maximum flexibility in creating their IoT environment. For instance, when implementing the lighting module, they can buy LED lamps from Ampio or integrate the existing lamps with our system. The same goes for the blinds or heating and ventilation module – we integrate the existing elements of the installation, making them an integral part of the smart home. Using dedicated integration modules and API interfaces, we can also integrate various other household items.
These few aspects are essential when picking your provider. Remember also about the security of the smart home system – you can read more about it on our blog. If you have some questions regarding a particular aspect of the smart home systems, write to us! We would love to address your doubts.
By continuing to use the site, you agree to the use of cookies. more information
The cookie settings on this website are set to "allow cookies" to give you the best browsing experience possible. If you continue to use this website without changing your cookie settings or you click "Accept" below then you are consenting to this.